G&A Timber Limiter
Timber Supplier in Scotland
Banchory, Scotland, is home to a thriving timber industry that hosts countless reputable timber merchants and suppliers who have been serving the local community for many years. These merchants and suppliers have built a strong reputation for providing high-quality timber products and services to local residents and businesses. Delivery service is available in Aberdeen, Banchory, Stonehaven, Inverurie, Ellon, Peterhead, and Mintlaw, also we can deliver up to 100 miles distance from Aberdeen.
Wide Range of Products
If you are looking for a local timber merchant near Banchory who can offer a wide range of timber products to meet the diverse needs of our customers. No matter what your project requires, we have the products you need to get the job done. Our products include:
G&A Timber Limiter
Sustainability is Our Priority!
G&A Timber suppliers in Banchory have a long-standing commitment to sustainability, and we source our timber from responsibly managed forests. We believe in preserving the environment for future generations and strive to minimize the carbon footprint. Our timber merchants and suppliers in Banchory are dedicated to providing our customers with the highest quality products and services and are constantly updating their product offerings to meet the changing demands of the market.
Experienced Staff to fulfill all your needs
In addition to offering a wide range of products, such as Treated sawn timber, Treated softwood sleepers, Fencing, Decking boards, Tongue and groove cladding, C24 Treated timber, Shiplap Cladding, and Railway Sleepers.  G&A timber merchants and suppliers in Banchory also provide expert advice and support to the customers. Our knowledgeable and experienced Staff are always on hand to assist with any questions or concerns and are committed to helping customers make informed purchasing decisions. They understand the importance of meeting customers' needs and go above and beyond to ensure that they are satisfied with their purchases.
G&A Timber merchants and suppliers in Banchory play a crucial role in the local economy and are an essential part of the community. They offer a wide range of high-quality products and services and are committed to sustainability, providing expert advice, and ensuring customer satisfaction. If you are looking for reliable and trustworthy timber merchants and suppliers in Banchory, look no further.
Order Online
Our Products
Regularised treated softwood timber, Planed C24 -45mm×95mm (4×2)

£

7.00 –

£

13.15 Select options
SHOP ALL
Here is why you should choose us!
Why Choose G&A Timber
If you're a customer based in Banchory and need the services of a timber merchant who will live up to all your expectations and bring the best possible products, then you have come to the right place!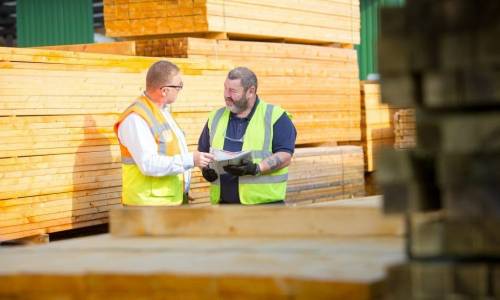 Quality Products: We source our timber from responsible and sustainable sources, ensuring that you receive high-quality products that are built to last. Our products are carefully selected to meet your specific needs and are backed by our commitment to quality.
Competitive Prices: We believe in offering our customers the best value for their money and strive to provide the highest quality products at competitive prices. Our commitment to quality and affordability ensures that you receive the best possible value for your investment.
Customer Service: Our team is dedicated to providing exceptional customer service and is always available to assist you with any questions or concerns. We understand the importance of meeting your needs and are committed to ensuring your complete satisfaction.